Promoting Indie Authors For More Than 10 Years!
Spotlight
Meet six-year-old Tommy Johnson, Super Cowboy and Super Story-teller. Want to build a box to capture wild cats that roam the farm? How about tips on catching a greased pig at the fair,...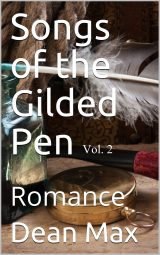 Take a ride on the romance train. Songs of the Gilded Pen Vol. 2 is filled with stories and poetry to whet every appetite. Their cadences enliven the romantic short story genre like never before....
Popular Genres
Featured Book-Related Services: