Over 100,000 Book Promotions!

Helping indie authors since 2009.
Spotlight
Confronting racism, transcending duality: Black & White is a metaphysical Western, set in modern times and incorporating more than a touch of the East. A young white man,...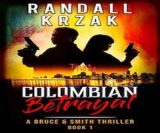 Colombian Betrayal tears the cover off the drug trade and exposes the death, and violence behind the twisted connections between governments, revolutionaries, terrorists, and drug lords....
Popular Genres
Action/Adventure
Fantasy
Mystery/Thrillers
Romance
Science Fiction
Young Adult
Enter Your Book
Featured Book-Related Services: